Kyu Wan "Juan" Ryu - patent agent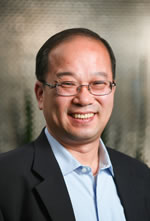 Juan Ryu specializes in patent prosecution and is part of an internal IP portfolio management team engaging in strategic development and planning for some of our clients' larger patent portfolios.  Prior to joining Innovation Counsel, Mr. Ryu enjoyed a long career at Samsung Electronics. 
Mr. Ryu began his career at Samsung as an engineer and subsequently became a part of an Intellectual Property management team.  Drawing from his depth of in-house experience, Mr. Ryu is able to not only prepare and prosecute patent applications but to also apply his technical knowledge and business insight to strengthen and refine patent portfolios with a strategic perspective.  Mr. Ryu is especially experienced with semiconductor processing and display devices. 
Mr. Ryu is fluent in Korean.  

Mr. Ryu can be contacted at jryu@innovationcounsel.com.
Professional Licenses
Limited Recognition with the U.S. Patent Office
Education

Yonsei University, B.S. Material Science Engineering