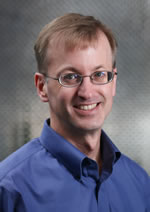 Dr. Schmidt has been in patent practice since 1999.  His practice includes domestic and international patent prosecution, strategic patent counseling, and company and investor-side intellectual property due diligence.  His technical expertise is in chemistry, physics, optics, and optoelectronics.  Client technologies have included lasers, laser based medicine, light emitting diodes, and other optical and optoelectronic technologies; CSP and CPV solar energy, photovoltaic solar cell design, and related solar energy technologies; energy storage, metal fabrication, water purification, alternative liquid fuels, chemistry, and medical devices.
He has a Ph.D. in physical chemistry and, before entering the law, spent over a decade as a research scientist.  His research included experimental and theoretical work on semiconductor nanocrystals (quantum dots), electrochemical systems, Langmuir monolayer films, colloids, polymer melts and proteins. He also designed, constructed, and operated numerous optical devices, including ultrafast lasers and parametric light sources.
Prior to joining Innovation Counsel LLP, Dr. Schmidt practiced at K&L Gates LLP, Morrison & Foerster LLP, and Skjerven Morrill MacPherson LLP, in the latter position as a patent agent.  He also served as Vice President of Intellectual Property for Ausra, Inc., a Silicon Valley CSP solar company (now AREVA Solar, Inc.). 
Dr. Schmidt can be contacted at 
mschmidt@innovationcounsel.com
.
Professional Licenses
Admitted to State Bar of California
Registered with U.S. Patent & Trademark Office
Education
University of California Hastings College of the Law, 
J.D. (summa cum laude, Thurston Society, Order of the Coif, Class Valedictorian)
The University of Chicago
Ph.D., Physical Chemistry
Carleton College
B.A., Chemistry (magna cum laude, Phi Beta Kappa)