Han Cho - Patent Agent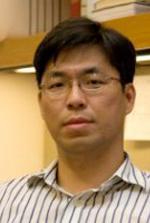 Dr. Han Cho's practice focuses on preparing and prosecuting patent applications, including conducting interviews with Examiners at the U.S. Patent Office, handling appeals before the Board of Patent Appeals and Interferences, and drafting briefs and Reexamination papers. Dr. Cho also has significant experience handling patent-related aspects of due diligence in mergers and acquisitions, and helping with technical analyses for patentability searches, opinions of counsel, and IP portfolio management. 
His diverse engineering background and experience encompasses a variety of industries including IT, semiconductor, software, embedded systems, medical imaging, robotics, automation, medical devices, entertainment, electronic design automation (EDA), sporting equipment, renewable energy, aerospace, tactile sensing technology, and CAD/CAM. Prior to his career in Patents, Dr. Cho worked with and consulted for many engineering companies in various industries, and was also a founding member of an LCD test equipment company specializing in contact probing technology.
Dr. Cho can be contacted at hcho@innovationcounsel.com.
Professional Licenses
Registered with U.S. Patent and Trademark Office
Education
University of Michigan, Ann Arbor
Ph.D., Mechanical Engineering and Applied Mechanics
University of Michigan, Ann Arbor
M.S., Mechanical Engineering and Applied Mechanics
Korea Advanced Institute of Science and Technology
B.S., Precision Engineering and Mechatronics